Beskrivelse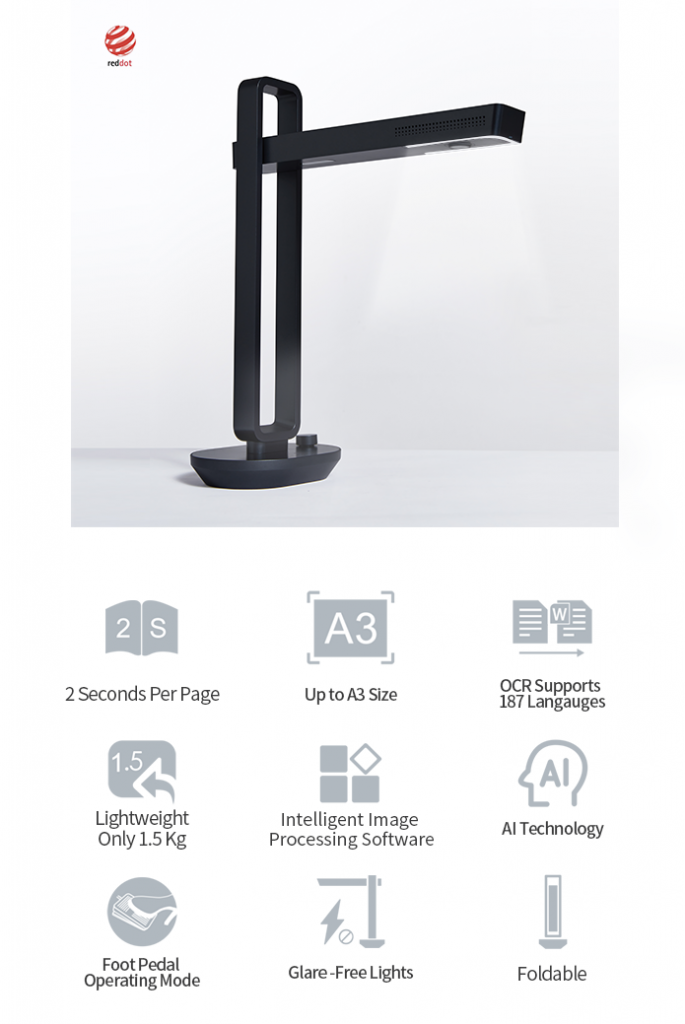 Product Information for Aura:
Product type
Smart scanner
Usage
Personal use, Family use, Educational Institutions, Corporates
Scannable Items
Documents, books, photos, exam papers, receipts, etc.
Scanner Specifications:
Scanning Range
Single sheet ≤A3; bound books ≤A4
Scanning Speed
Single sheet ≈2.0sec/page; bound books≈2.0sec/two pages (differs due to lightings)
Output Formats
JPG, PDF, Word, Excel
Video Streaming Format
MJPG
Preview
MJPG 1536*1152@20Fps
Light Source
Natural light + LED lights
Scanning Access
Software triggering, foot pedal triggering
System Support
XP/Win7/Win8/Win10 (32 and 64 bit); mac OS 10.11 and above
Lamp Specifications:
Core Features
Non flickering, non-radiation, light evenly distributed, good for eyes, different color temperatures, different brightness levels, sound control by phone
Switch Settings
Natural light, reading light, computer light, smart night light mode
LED Light Specifications
16 true white and 16 warm white LEDs
Light source
Polarized light
Luminous Flux
Natural Light mode (140-600lx), Reading Light mode (180-800lx), Computer mode (110-5601x), Smart Lighting mode at night (15-601x)
Color Rendering Index (CRI)
Ra≈85
Color Temperature Range
Natural Light mode (4800K), Reading Light mode (4000K), Computer mode (3000K), Smart Night Light Mode (3000K)
Control Method
Digital audio waves can be used through applets or the App (in an open and quiet environment, the effective distance is 5m)
Configuration:
Hardware Configuration
32 bits MIPS CPU
Laser-Assisted
3 laser rays
TFT screen
2.0 inches, 4:3, 320*240 (for preview)
Power Adapter
Input AC: 100–240 V 50/60 Hz 0.6 A Output DC: 9 V/1.5 A
Special Features:
CZUR App for Lamp Function
√
OCR Supports 186 Languages
√
Software Features:
Curve Flattening
Second generation laser assisted to flatten curves
Smart Tilt Corrections and Auto-Cropping
√
Color Mode
Automatic, Color, Black and White, Stamps
Auto Detect when Page Flipped and Auto Scan
√
Packaging and After-Sales Support:
Product Size (when folded open)
372*180*443mm (l*w*h)
Product Size (when folded closed)
180*130*443mm (l*w*h)
Packaging List
Aura scanner, USB cable, power adapter, foot pedal, black work mat, yellow finger cots, CD (Getting Started Guide and User Manual), warranty card, quality certificate.
Krav til PC og Mac:
Scan anything from books and documents to objects in high quality in minutes (300 pages in 20mins).
* Digitize books without unbinding them. Convert them to PDF, editable Word (2.5sec/page) * Scan a wide range of documents and objects up to A3 size * Doubles as a versatile lamp with 4 light settings.
For all CZUR scanners, PC and Mac requirements are these:
Windows
OS
Windows 10 (32-bit and 64-bit)
Windows 8 (32-bit and 64-bit)
Windows 7 (32-bit and 64-bit)
Windows XP SP3 more (32-bit and 64-bit)
CPU
PC with X86-compatible processor (2 GHz or higher)
Memory
4GB RAM minimum, 8GB RAM recommended.
Hard Disk
The installation and operation of the program requires 1 G disk space. You can scan more images if the disk space is bigger. The recommended storage is 20G.
MAC
| | |
| --- | --- |
| OS | MacOS X 10.11 or later |
| CPU | PC with X86-compatible processor (2 GHz or higher) |
| Memory | 2 GB RAM minimum, 8 GB RAM recommended. |
| Hard Disk | The installation and operation of the program requires 1 G disk space. You can scan more images if the disk space is bigger. The recommended storage is 20G. |