Beskrivelse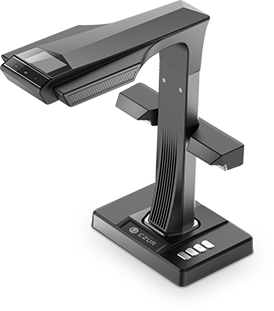 Characteristics
Product type
Smart Scanner
Scanning materials
Documents, Books, Magazines,
Forms, Invoices, Certificates,
Business cards and Sculpture object
Scanning format
≤A3, 420 × 297 mm(16.5×11.7 inch)
Maximum scanning format
480×360 mm (18.89×14.17 inch)
Maximum scanning thickness
420×297 mm: supports 35 mm
271×195 mm: supports 50 mm
Scan speed
Flat single page≈1.5s/page;
Books≈1.5s/dual pages
Export format
JPG, PDF, Searchable PDF, Word,
Excel, TIFF
Video streaming format
MJPG
Preview
PC-Visual presenter: 3072*1728@12Fps;
PC-Scanning:1536*1152@20Fps
Light source
Built-in lights and Side lights
Scanning method
Device Control, Software triggering,
Hand button, Foot pedal
System support
XP, Win 7/ 8/10, 32/64-bit; macOS 10.11
and above
Configurations
Processor
32-bit MIPS CPU
Laser – assisted
3 laser rays
Power
Input:AC 100-240V-50/60HZ 0.6A Output:DC 9V⎓1.5A-2A
Specific functions
Visual presenter
USB-PC Visual presenter
Image storage(Wi-Fi mode)
×
Software features
Smart tilt corrections and auto-cropping
√
Color mode
Color, Patterns, Stamps, Gray scale, B&W
Manual Selection scanning
√
Software features setting
√
Packaging and
Accessories
Product dimensions
362.45×351.5×149.30 mm
Packaging list
Scanner,Side lights,USB cable,Power
adapter,Hand button,Foot pedal,Black
document pad,Specialized finger cots,CD,
User manual,Warranty card,Quality certificate
Krav til PC og Mac:
Scan anything from books and documents to objects in high quality in minutes (300 pages in 20mins).
* Digitize books without unbinding them. Convert them to PDF, editable Word (2.5sec/page) * Scan a wide range of documents and objects up to A3 size * Doubles as a versatile lamp with 4 light settings.
For all CZUR scanners, PC and Mac requirements are these:
Windows
OS
Windows 10 (32-bit and 64-bit)
Windows 8 (32-bit and 64-bit)
Windows 7 (32-bit and 64-bit)
Windows XP SP3 more (32-bit and 64-bit)
CPU
PC with X86-compatible processor (2 GHz or higher)
Memory
4GB RAM minimum, 8GB RAM recommended.
Hard Disk
The installation and operation of the program requires 1 G disk space. You can scan more images if the disk space is bigger. The recommended storage is 20G.
MAC
| | |
| --- | --- |
| OS | MacOS X 10.11 or later |
| CPU | PC with X86-compatible processor (2 GHz or higher) |
| Memory | 2 GB RAM minimum, 8 GB RAM recommended. |
| Hard Disk | The installation and operation of the program requires 1 G disk space. You can scan more images if the disk space is bigger. The recommended storage is 20G. |